Zerodha is India's Largest stock broker in terms of total active clients base. The discount broker is active since 2010. Here is a comprehensive review of this discount broker, as well as its products, offerings and services.
Zerodha, is amongst one of the newest members of the Indian equity and derivative trade economy who have pioneered in the art of interweaving technology with conventional financial services thereby giving a superb boost to the conventional equity and derivative based trading industry in India.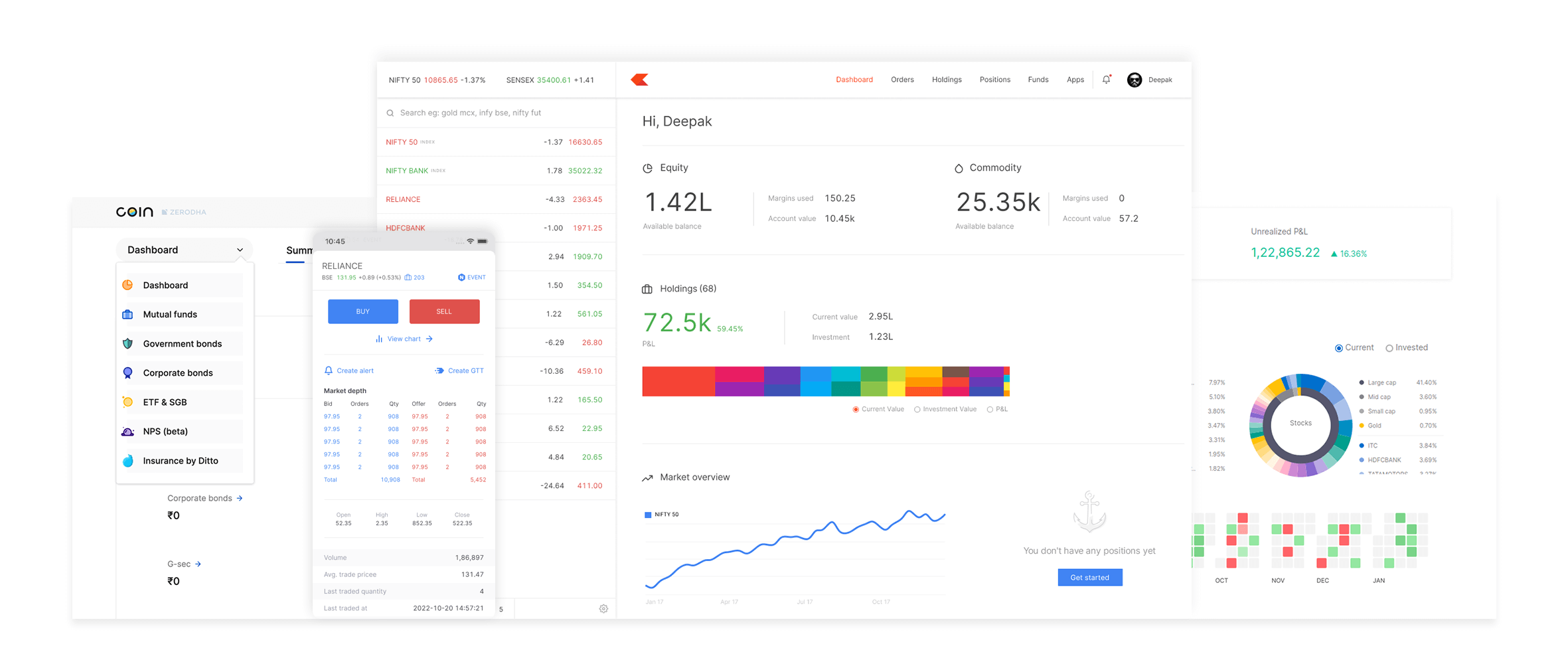 About
Company Type
Private
Broker Type
Discount Broker
Headquarters
Bangalore, India
Founder
Nithin Kamath
Established Year
2010
Started in 2010, Zerodha is officially recognized as India's first and most prominent discount broker. It was founded by Nithin Kamath who had worked as a stock trader before starting his own broking house.
Apart from bringing a competitive pricing model that made it the first of its kind, Zerodha is also acknowledged as a pioneer in technology for trading in India.
The broking house officially began its operations on 15th August 2010. As its name, mixing the English word 'Zero and the Sanksrit 'Rodha' (Barrier), would suggest, Zerodha had the vision to break possible barriers that various traders, investors and various other aspiring money-makers face in the country's economic scenario.
Zerodha Account Opening Charges
Account Opening Fees
Depository Source
CDSL
Account Opening Charges
Rs.300
Demat AMC Charges
Rs.300 per Annum
Trading AMC Charges
Free
Margin Money
Zero
Offline to Online
No
Zerodha Brokerage Charges and Fees
| | |
| --- | --- |
| Brokerage Charge & Fees | Zerodha |
| Equity Delivery Trading | Zero |
| Equity Intraday Trading | 0.01% or Rs.20 |
| Commodity Trading | 0.01% or Rs.20 |
| Equity Futures Trading | 0.01% or Rs.20 |
| Equity Options Trading | Rs.20 per Lot |
| Currency Futures Trading | 0.01% or Rs.20 |
| Currency Options Trading | Rs.20 per Lot |
| Minimum Brokerage | Zero |
| Demat AMC Charges | Rs.300 per Annum |
| Trading AMC Charges | Free |
| Margin Money | Zero |
| Brokerage Calculator | Zerodha Brokerage Calculator |
There are some other charges that will be applicable for the investors and customers of Zerodha as well.
Other Charges
Transaction Charges
0.00325% of Total Turnover
STT
0.0126% of Total Turnover
SEBI Turnover Charges
0.0002% of Total Turnover
Stamp Duty
Depends on State (very minimal)
GST
18% of (Brokerage + Transaction Charges)
The STT is a charge that is only for the sell side in intraday and F&O transactions as well. It will be charged on both sides for Equity trades.
There will also be the normal Stamp Duty charge for all the states of India and this changes as per the state in which the transaction takes place.
The transaction charge is very small and falls somewhere between 0.00325% for Deliveries, 0.0021% for Futures and 0.053% for Options.
The service tax charge for all transactions will remain the standard 14% of the total amount. There is also the SEBI charge for Rs. 20 for every crore of the transaction.
Call and trade feature from Zerodha will come in at a cost of Rs. 20 per call. The Instant Payment Getaway is applicable for over 21 banks and will be Rs.9 per transfer. There are DP charges for delivery based equity selling- Rs. 8 per transaction.
Overall, the expenses and fees charged by Zerodha are rather transparent in the structure. Zerodha offers you a free calculator to compute the charges on all trades and transactions.
As a broking house, Zerodha has consistently upheld its vision to assist retail traders and investors. It is now dedicated to provide more up-to-date and timely knowledge as well as hi-tech tools and platforms as well as constant customer support at competitive prices.
The firm quickly escalated their reputation to the ninth cloud and became a fan favorite in less than a decades time due to it's unconventional approach to serve the registered retail clients (traders) across the major equity and derivative based Indian trading industry with easy to use and home developed trading platforms.
The company typically keeps on boasting about their disruptive pricing and in-house developed technologically sound solutions to India centric stock trading.
As a matter of fact, they are recognized as the largest stock broker in India in regards with their active clients and also in terms of the firm's total contribution in terms of trading volume on the top most Indian stock exchanges that is 10 % of the overall Indian retail trade volume.
Furthermore, the company has been recognized for the 'Retail brokerage of the year 2018' award by the National Stock Exchange, 'Retail broker of the year 2017' award by Outlook Money and 'Young Entrepreneur of the year (Startup) 2017' award by Ernst & Young.
How to open Demat Account with Zerodha?
Zerodha is a leading broker today in discount broker industry. Here are few simple steps to proceed.
Register your name, mobile and email id on below form.

You will get a call from Zerodha representative & they will share a link.
You will open this link & complete step by step process online.
The KYC verification procedure will require you to have Aadhar Card, PAN Card, and a photograph in order to verify your age, identity and address.
Once you finish up all these steps, you may expect to be contacted upon by an authorized personnel on behalf of Zerodha who will take care of the final set of verifications before handing you over your account.
As soon as the final verification is complete, you will be able to freely access your Demat or Trading Account (whichever you have opted for) in a couple of hours.
Zerodha Exposure / Leverage / Margin / Limit
Exposure / Leverage
Equity Delivery
NA
Equity Intraday
Upto 14x
Equity Futures
Upto 3x
Equity Options
NA
Currency Futures
Upto 4x
Currency Options
NA
Commodities
Upto 6x
Margin Calculator
Zerodha Margin Calculator
Zerodha Kite Web – Web Based Trading Platform
Zerodha has developed their own version of browser based trading platform that goes by the name of Kite Web.
Kite Web is a HTML 5 based browser enabled trading platform that stands as a part of the overall network of remote trading platforms offered by Zerodha across various operating platforms as well as devices.
It has the following features:-
Multi-Lingual Platform
The app can be accessed in ten different regional languages apart from English which makes the experience of using it for the users pleasant and definitely convenient.
It has been developed to support Oriya, Tamil, Punjabi, Hindi, Kannada, Malayalam, Bengali, Telugu, Marathi as well as Gujrati as the prime language.
Lite Weight & Low Internet Requirement
Kite web is definitely one of the most light weight browser based trading platforms available in the market. It even does not require a high internet frequency to work perfectly.
In fact, it requires as low as 0.5 kbps of internet bandwidth to perform optimally. This enables the web based app appropriate to be used all across the natione, especially among the third and fourth tier cities where internet speed can ifetn be troublesome.
Accurate Search Results
The app comes integrated with the ability to provide you with accurate search results across thousands (if not more) of scrips, contracts as well as financial products across multiple indices as well as trading segments through the in-built single exhaustive 'Search' feature.
This typically helps the traders who are always on a look out for more information before placing their orders.
Live Charts
The app comes loaded with the feature to showcase a huge number of live chart called 'Zerodha Kite Charts'. This is an advanced feature that enables the users to access six different type of charts like Linebreak, Renko Chart, Range Bars, Helkin-Ashi Charts, Point and Figure Charts and Kagi Charts.
The tools also offers the users to access over twenty different type of drawing tools and more than hundred distinctive technical indicators.
Minimalistic User Interface
Zerodha Kite Web has been designed with minimalistic user interface, thus allowing the users to experience easy navigation, convenient understanding and extended usability.
The app also enables the users to set up their own respective short cut keys for even more convenience.
Push Notification
The app is capable of pushing notifications to your computer screen in regards with important news, updates related to your Demat or Trading Account and even the slightest movement within the markets.
Data Points for Analysis
The app comes loaded with a humongous variety of data points (including but not limited to P&L, Cash Flows and Shareholding Patterns) thereby allowing the users to execute a number of fundamental or complex technical analyses before placing in their respective orders.
Multiple Segments
The app is also capable of providing the users with the ability to place distinctive orders by proving many trade product options like Margin Intraday Square Off or MIS, Normal F&O or NRML and Cash n Carry or CNC.
Single Click Order
The app has been developed in a way so that it can allow the users to place order easily with only a single click across different order types.
This feature usually comes in handy for the traders who specifically deal in Intraday Trades, where the probability of profits converting into losses in merely a lapse of a second is in fact, very high.
Critical Analysis
The web based app allows the users to carry out extensive and critical analyses with the help of the already integrated tool Quant.
The users are also allowed to further integrate other tools like Zeridha Smallcase, Zerodha Sentinal and Zerodha Streak within the app for further analytical advancements.
Watchlist
Zerodha Kite Web allows the users to add up to five different market watch lists each with a maximum of forty scrips.
Irrespective of the fact that this indeed is a common feature that can be easily found in a number of other web or browser based trading platforms, Zerodha's feature is comparatively easy to be used.
Short-cut Key Function
The app comes loaded with a number of short cut key functionalities that can be used to access features that may otherwise require critical navigation knowledge.
It also allows the users to personalize the short cut keys in accordance to their own requirements and convenience.
---
Zerodha Kite Mobile Trading App
Zerodha's network of remote trading platforms also include Kite Android and Kite IOs, which are both commendable mobile based trading platforms and come loaded with the features similar to Kite Web as both the platforms has similar UI & development stack:-
In Built Search
Both the apps have been developed to be able to provide the respective users with accurate search results throughout numerous scrips, contracts and financial products across multiple indices as well as trading segments.
They carry out this marvelous task with the help of the in-built 'Search' feature. This feature of the mobile apps has been known to help the traders who looking forward to gather more information before placing their respective orders.
Interactive Charts
The apps have also been integrated with a feature to showcase numerous live charts with varying display options.
This particular feature enables the respective traders as well as investors to access six distinct chart types including the Linebreak, Range Bars, Renko Chart, Point and Figure Charts, Helkin-Ashi Charts, and Kagi Charts.
Apart from granting access to different chart types, the apps have also been enabled to offer the respective users exclusive access to more than hundred different type of technical indicators.
Historical Data
Both the apps have been developed in a way so that they can grant access to free historical chart data of several years thereby providing the respective users with a better understanding of the market and helping them to take informed financial decisions.
User Experience
Both the apps have been designed in a way so as to enable every kind of user (from novice to experts) to enjoy a superior user experience by offering them easy navigation throughout the app with the most minimal but classy interface.
Push Notification
The apps have been developed with the ability to push notifications to the respective user's (trader's as well as investor's) home screen with regards to all the updates concerning the user's Demat or Trading Account.
The apps can also notify the respective users of even the slightest movement within the concerning markets.
This apps can be found in the Google's Play Store and Apple App Store by the name of Kite by Zerodha. They Android version of the app has forty thousand seven hundred and fifteen reviews with an average of 3.9 star rating.
The IOs version however, has only eight hundred and seventy six reviews with an average of 3.1 star rating.
Other than these, Zerodha also has made their mark with their Sentinel, Kite Connect and Direct Mutual Funds, named platforms.
Each of these platforms are highly recommended by the users and are continuing to gain even better reputation for the full service brokerage house altogether.